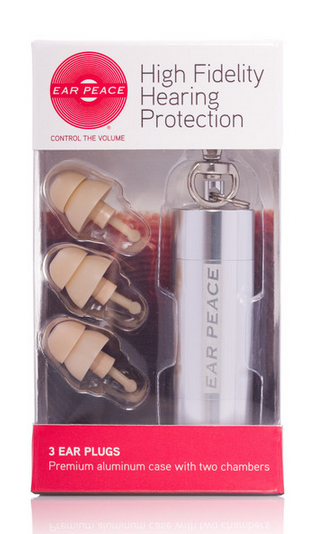 EarPeace comes with three plugs and a premium anodized aluminum case. We always offer FREE SHIPPING in the US on orders of two or more.
In need of higher levels of protection? Try our new HD Product.
The best ear plugs for loud entertainment. Guaranteed.
Live music, nightclubs, bars, even the movies are loud. Even uncomfortably loud. No more! EarPeace turns down the volume without distorting the sound. The sound is clear and crisp. EarPeace is very comfortable and virtually invisible. EarPeace are the best ear plugs for your entertainment experience.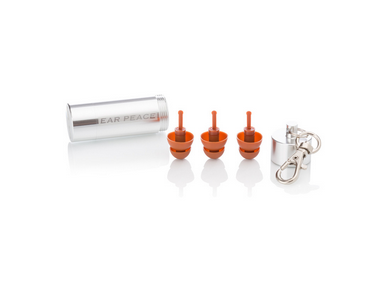 What: A sleek aluminum carrying case with three EarPeace ear plugs. The ear plugs are made of soft, strong, hypoallergenic silicone. They are reusable. Comfortable, discrete and the multiple skin tones make it personal. The durable carabiner will keep the cool case securely clipped to your go bag.
Why: It's too loud! Maybe you use foam ear plugs right now. They are LoFi. grab EarPeace and go HiFi. As mono is to foam ear plugs, stereo is to EarPeace. The music will be crisp and clear. You will even be able to have conversations with your friends.
How: EarPeace is engineered to deliver the superior sound-quality and ultra low profile of custom ear plugs, at a fraction of the cost. The attenuation filters allow a small, precise amount of unobstructed sound to enter the ear. You get great sound at a lower volume and the background noise is filtered out.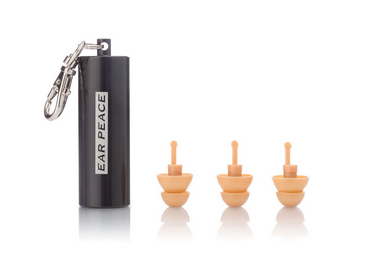 Where: Concerts, nightclubs, bars, parties, car races, arena games, the movies, and anywhere you need to protect your ears while still having a great time.
Who: Anyone who wants to hear clearly and leave a loud event without their ears ringing will love EarPeace. Also perfect for DJs, musicians, bartenders, and bouncers.
We built the best earplugs because you need them.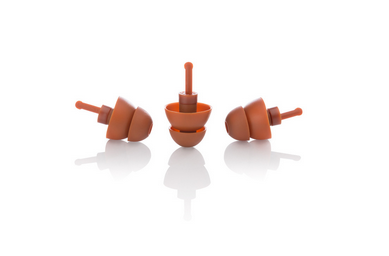 The world is loud and getting louder. You probably live through honking and traffic, screeching subways, construction, fire engine sirens, and loud radios before you even get to work. We are all steadily being desensitized to how noisy our environments are. Layer extremely loud events like a music concert onto that and you are at real risk of noise induced hearing loss and / or tinnitus. We are singularly committed to your hearing health.
We are also singularly committed to your good time. Whether you want to keep going to see your favorite speed metal band, singing in the choir, dancing all night, or going to see the latest action film – we have you covered. EarPeace ear plugs are the best earplugs for your good time. EarPeace will improve your entertainment experience:
Hear all the high notes and your friend speaking to you while the music roars. Then leave without your ears ringing.
Comfortably wear EarPeace all night without them falling out of your ears.
Relax, no one knows you are wearing ear plugs. They are the color of your skin and disappear in your ear.
The patented 'tab feature' of the ear plugs allows you to easily insert the plug to the point where it 'disappears' and then remove the plug from the ear.
The durable carabiner will keep the cool case clipped to your key chain, gym bag or purse.
Pick up a pair of EarPeace and control the volume. Now get out there!