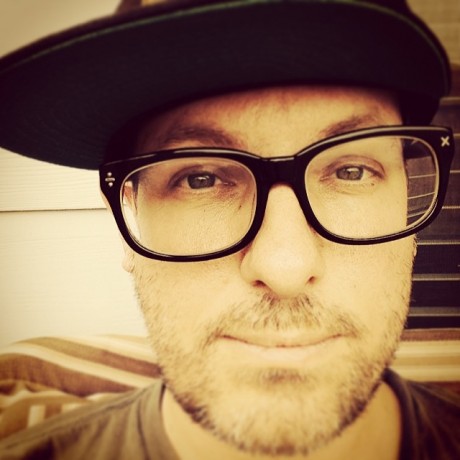 ……………………………………………………………………………………………………
Biography
Born out of the heady rave days of the early 90s, Adam Warped has spanned the evolution of the electronic music scene in the US. A nightlife connoisseur and music junkie he remains true to his underground roots by delivering a smooth unique blend of classic and uncompromisingly forward thinking grooves. His debut gig (via request of legendary DJ Reese of Astralwerks) at infamous NYC venue The Limelight led to appearances at many notable hotspots including The Tunnel, Lunatarium, Filter 14, Le Souk, 1015 Folsom, Love NYC, Kingdom, Mezzanine SF, The W Hotels, Secret Cinema LA, and many more.

From '97-99, Adam further refined his talents, studying sound engineering at Full Sail University. This study took flight when Adam left university to partner with 'Big' Ben Davidson. In 1999, the duo released their debut 12 inch "Left of Center" on their own label, Warped Recordings, followed by several other projects, including a 2006 remix of Hawke's (Gavin Hardkiss) single, "Flower Girl," which was also licensed for a mix cd entitled "Rachdingue Vol. 1" representing Salvador Dali's legendary surrealist avant-garde nightclub "Le Rachdingue Discotheque" in Catalonia Vilajuïga, Spain.
In 2009, Adam launched his label Whiskey Pickle in Austin, TX with worldwide distribution from The Orchard and managing partner Davey Schacherl running the day to day operations. October of 2011, Adam's alter ego Johnny Blackouts took to the studio producing "Down The Hatch" on San Francisco label Not So Fast Records. His remix of No Soul To Sell's "Electric Kool-Aid", for French label Electronic Petz was released in February of 2012. That release was followed up shortly by his first solo artist EP Johnny Blackouts-"Boozehound EP" on his own imprint Whiskey Pickle. Now having released over 20 pieces of music he continues to do original productions, remixes and collaborations for many labels and under many different monikers, Johnny Blackouts, Bars & Scars, Warped Crew, Blown Fuse, Left of Center, Estupidos Borachos, The Fallen, Stay Classy, Warped & Gear, A.WarpedEdit, A Warped Remix, etc. and appears on labels, Whiskey Pickle, Life Music, Siesta, Nylon Trax, Electronic Petz, Eighth Dimension, Cromarti, Discomfort, Not So Fast, Rachdingue, Ditrec Records, Kapa Music, Bush, Warped Recordings, Degrees Ov Separation.



Discography
WR001 Left of Center- "Left of Center" Warped Recordings
WR002 Blown Fuse- "Blowdryer Blues" Warped Recordings
DT002 Hawke- "Flowergirl" (Warped Crew Remix) Ditrec Records
WP002 P-Rez- "Jackin' Coke" (Warped & Highwire's Balearic Beatdown) Whiskey Pickle
NSF006 Johnny Blackouts- "Down The Hatch" Not So Fast
EP067 No Soul To Sell- "Electric Kool-Aid"(Adam Warped's Johnny Blackouts Dub) Electronic Petz
WP004 Johnny Blackouts- "Boozehound EP" Whiskey Pickle
CR022 Adam Byrd- "Sweet Dreams"(Bars & Scars Remix) Cromarti
DCD001 Galileo- "What You Gonna Do" (Johnny Blackouts Warped Dub) Discomfort
WPF01 Estupidos Borachos- "Estupidos Borachos EP" Whiskey Pickle
LIFE014 Dood-" Hypnotik" (Estupidos Borachos Nu Disco Remix) Life Music
SR08 Robbie & Gavin Hardkiss- "Revolution" (Johnny's Space Blackout) Siesta Music
WP011 Owl & Finch- "Found Another" (Johnny Blackouts found a Milf Remix) Whiskey Pickle
NT020 Men From Nobu-"We Have A Dream"(Adam Warped Remix) Nylon Trax
WP020 Keine Moniker-"I'm A Freak" (Johnny Blackouts Remix) Whiskey Pickle
WP021 Thomas-"Sexxed Up" (Johnny Blackouts Remix) Whiskey Pickle
WP022 Glass Slipper -"Caught Up" (Johnny Blackouts Remix) Whiskey Pickle
NT045 Johnny Blackouts -"Jark Dazz" Nylon Trax
WP024 Matteo -"Lust" (Johnny Blackouts Remix) Whiskey Pickle
Compilations
8TH010D Hawke – Love Won Another- Dance Remixes "Flower Girl" (Warped Crew Remix) Eighth Dimension
RACH 003 Various – Rachdingue Vol.1 "Flower Girl" (Warped Crew Remix) Rachdingue
Forthcoming
Johnny Blackouts- "Thirteen" Life Music
Mister T.-"Nova Style"(Warped & Gear Remix) Kapa Music
Kompany-"Spin On Your Knees"(Johnny Blackouts Remix) Bush Records
Johnny Blackouts- "Barrel Aged EP" Degrees Ov Separation