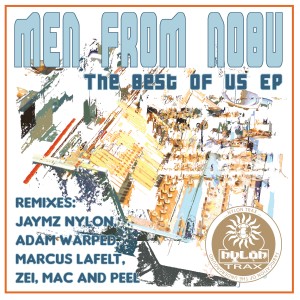 ………………………………………………………………………………………………………………………………
Distilling their sound in venues from Paris and Berlin to New York, the newest addition to Nylon Trax' back catalogue comes from three man group Men from Nobu… from France. The group's first release on Nylon Trax, entitled 'Best Of Us,' is an eccentric, electro-house affair comprised of three original productions studded with African-inspired elements, and remixes from a cast of hometown heroes.
Taught disco strings imbue tingly feel-good sentiments in the title track anchored by a 4×4 plod of broken keys and stripped bass lines. Similarly to the title track, 'Step Up' and 'We Have A Dream' both deliver stout, healthy portions of mouth watering analog machinery, live drums, and rustic afro-centric vocals. A palette that is anything but staid one could expect to hear such sounds bellowing out of secret, innocuous venues lesser known to the common club-goer.
Be sure and check out remixes from Ze!, label head Jaymz Nylon, Marques Lafelt, Futurewife, Adam Warped and Aswell.